- Wed Jan 04, 2017 5:18 pm
#15548
Hey everyone,
I've been busy the last six months which has required my absence from this community. Also I bought a house in June so that put the brakes on the Speeduino project. I've checked in a time or two and am glad to see the progress people are making.
Anyways the reason for this thread is my MINI had a puddle of water under it in the driveway the other day so I pulled it in the garage put it up on ramps and tore into it. It has 105k miles, I had planned to replace the water pump at 100k miles but that didn't happen yet so here we are.
I found the problem. The o-rings for the flange(part #3) that mates the coolant pump outlet to the engine block both(1 on pump, 1 on flange) failed.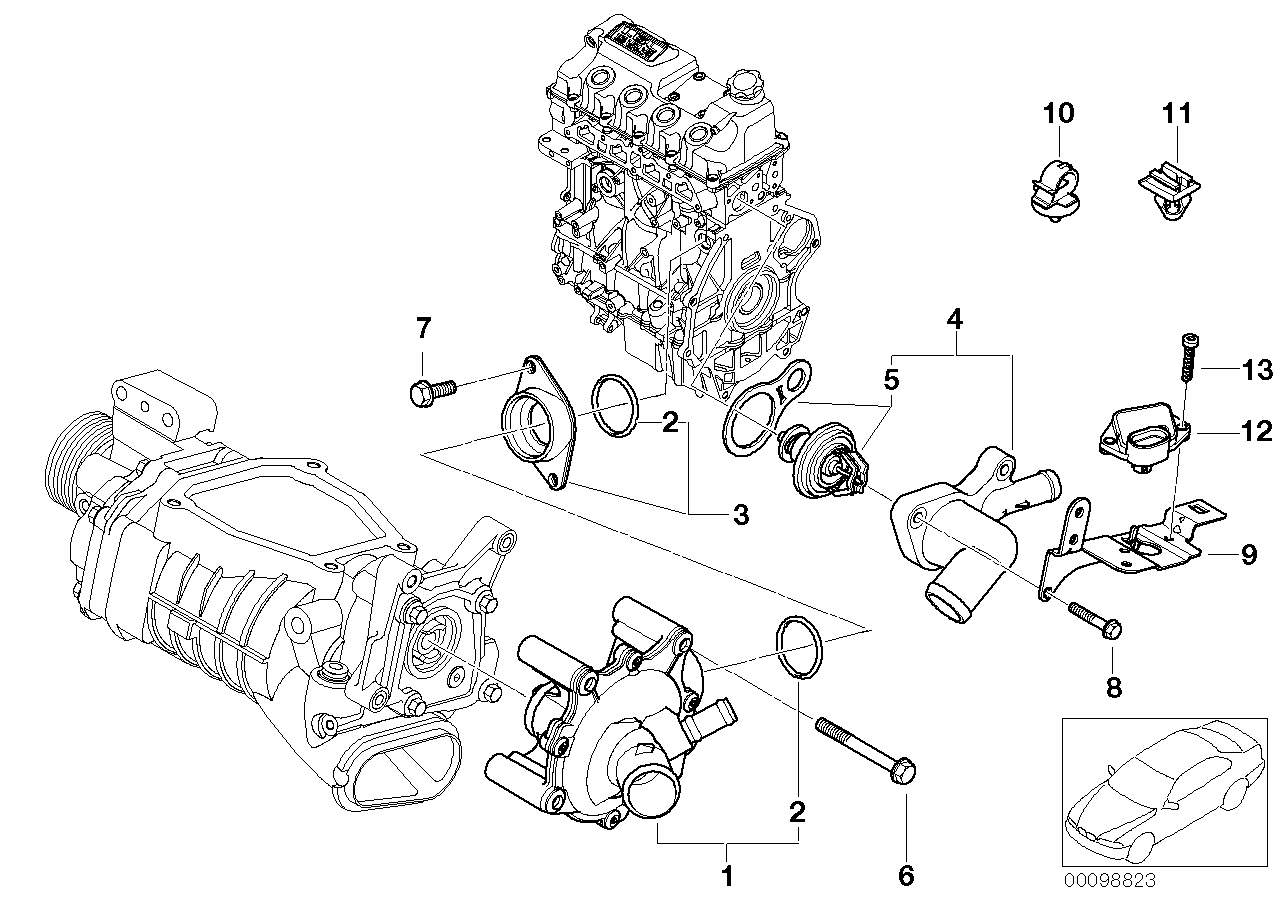 So I removed the supercharger and coolant pump assembly from the block and then separated them from each other. The pump bearing is in good health but here lies my need for knowledgeable assistance.

The Eaton M45 is belt driven, of course, and drives the coolant pump via PTO gears on the back side of the supercharger. The coolant pump meshes with a fork type shaft end coupler on the PTO shaft.
These PTO gears are prone to failure either from lack of oil or coolant pump failure. Lack of oil is supposedly caused by the shaft seal wearing out and allowing oil to be sucked past. The oil level should give me an idea of the condition of the seals. An electric coolant pump can bypass the need to use the PTO.
My supercharger looks great(no obvious visual wear, coating still present on rotors) and feels tight and smooth. There is very minimal play in the PTO gears probably no more than 3°.
I will be checking oil levels in both ends of the supercharger and uploading pictures when I get home tonight.

Where do I go from here?

Should I replace the coolant pump with an OEM replacement or replace it with an electric coolant pump (https://m.summitracing.com/parts/cvs-8000bk)?

Should I just refill the oil reservoirs on the supercharger and check in 25k miles? Or should I have it professionally rebuilt with new bearings, seals, and coupler(not in the budget at the moment)?

Any positive input appreciated. I'm trying to prevent any possibility of future catastrophic failures. Thanks.
1998 Honda Civic HX
1999 Honda Civic LX
2003 MINI Cooper S