- Tue May 02, 2023 1:01 am
#62777
Hi Guys, started this project and I realized I've hit a wall I need some help to overcome it.
I have a turbo fz07 project im trying to convert to speeduino. The bike has a vr crankshaft position sensor, and no camshaft position sensor. I'm using a speeduino no2c with a vr regulator. The engine is Yamahas CP2. Its a 270 degree crossplane crank with odd firing order. I'm trying to get it to crank but i've noticed some weird issues. Both injectors and ignition channels work in tuner studios test mode, but dont work when im cranking. See this image for ignition timing.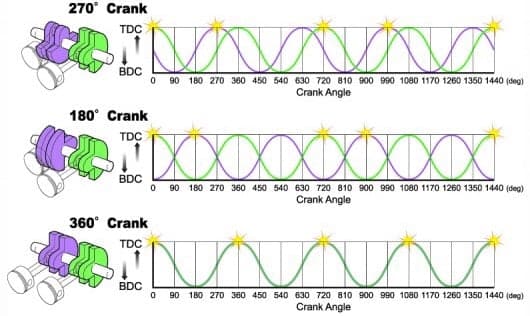 Basically as I understand it Cyl1 fires, then 270 later cylinder 2 fires, then 450 degrees later cylinder 1 fires again on the power stroke. That's not what im getting with the no2c.
1) The fuel injectors are not firing during cranking
2) During cranking only IGN1 works light up.
2a) I can get IGN2 to light up if I add 360 degrees to the ATDC angle i have in odd fire channel 2. Ie no channel 2 firing at 270 degrees, but i do get channel 2 firing at 450 degrees(720-270) and at 630 degrees(360+270) but I feel these settings are not correct.
Honestly, i realized I'm kinda out of my depth here and need some guidance on how to get this thing running. I've included my tune and a log file from cranking as well. Anyhelp would be greatly appreciated.